Priyadarshini Park's synthetic athletic track to be re-laid
Download PDF
Mumbai Mirror | Yogesh Naik | Monday, Nov 12, 2018
Priyadarshini Park's synthetic athletic track to be re-laid
The 400-metre, eight-lane synthetic athletic track in Priyadarshini Park and Sports Complex will be re-laid soon.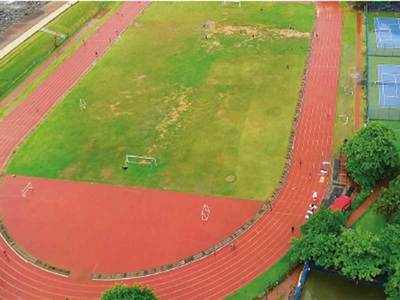 The synthetic athletic track was laid more than 25 years ago; Pic: DEEPAK TURBHEKAR
The first-of-its-kind in Western India, the track was laid more than 25 years ago.

The 20-acre park serves as a recreational space, and sports and fitness complex. It has additional facilities for sports such as athletics, football, tennis, karate, fitness, aerobics and yoga.
Susieben Shah, general secretary of the Malabar Hill Citizens' Forum, said, "We were the first in the western region to have a synthetic athletics track in Priyadarshini Park. Due to its proximity to the sea and excessive use, we need to replace it. We were looking for financiers, and now the corporate social responsibility department of an industrial giant has agreed to sponsor our project. It will cost us Rs 3.85 crore.''

Shah said that this is also the track that has survived the longest.

"We will also have a pole vault, and this is why we did not go for a football turf,'' she said.

The Malabar Hill Citizens' Forum is often at loggerheads with the BMC over various issues.

"We don't want to take any chances. Hence, we are following all procedures, including taking permissions from Maharashtra Coastal Zone Management Authority, for the project,'' said Shah.

More than 2,500 residents visit the park each day.
Read On Mumbai Mirror
Back to News